The Benefits of Daily Storage Billing
Cloverdale Cold Storage Ltd. bills only for the number of days your product remains in storage. Most cold storage companies charge based on "monthly minimum" storage periods. This means that you may have to pay for a full month, or more, even when your product is in storage for just a few days. Cloverdale Cold Storage Ltd. bills for a 10 day minimum and then daily thereafter. This can result in significant storage cost savings.
Imagine not having to worry about withdrawing product prior to month's end, just so you can avoid another full month storage charge. At Cloverdale Cold Storage Ltd. your storage charge starts on the date your product arrives and ends on the date of withdrawal and the minimum storage period Is only 10 days. This means that you can run your business based on what's best for you and your customers.
Technology Throughout
Warehouse Management Systems
Cloverdale Cold Storage Ltd. has invested in leading edge technology throughout the warehousing operation. From fiber optics to wirelessly connecting facilities, we're always looking at leveraging technology.
Compressor Room Monitoring
If you need to know what the storage room temperatures were on a specific date and time, we can tell you. And our engineers are able to access refrigeration systems remotely and can make system adjustments on-line.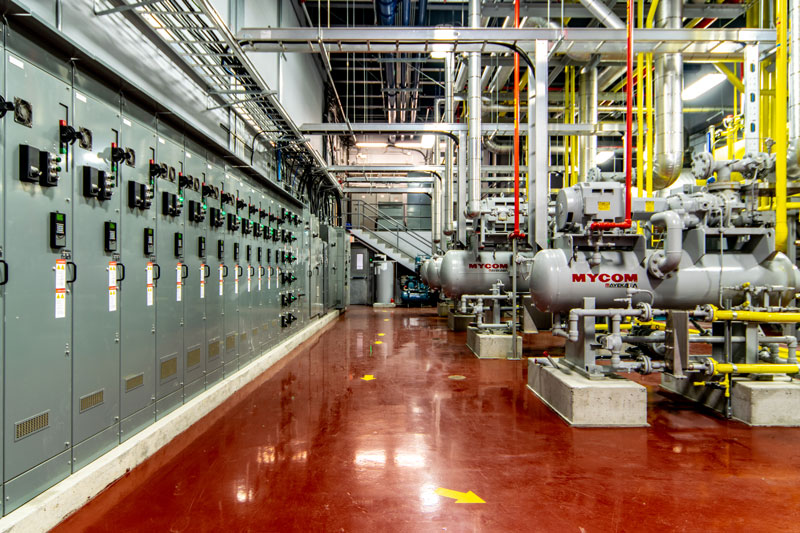 New Technologies
We are using fibre optic runs backed up by wireless shots connecting facilities. We have very sophisticated refrigeration control systems within each of our facilities. We have worked closely with BC Hydro on facility energy studies as a way of managing costs and conserving energy.
Tools to do the Job
We are constantly looking for new ways and new equipment that helps us to continually improve service levels. We encourage our customers to share their own ideas with us and to watch for new equipment or technology that might fit our organization.
Warehouse Management Systems / Online Releases
The MAXwms "Warehouse Management System" developed by IngenX Business Systems Ltd. is real time. Cloverdale Cold Storage Ltd. uses Zebra Technologies state of the art freezer rated forklift mounted computers and hand-held scanners rated to perform in the harshest environment. We pair this equipment with CISCO, the leading wireless manufacturer to achieve a truly seamless "Wireless in the Warehouse" network of more than half a million square feet of space. Every pallet received by Cloverdale Cold Storage Ltd. is labelled using a unique Pallet ID bar code identifier. During the put away process, the Cloverdale Cold Storage Ltd. bar coded pallet is then scanned into a unique barcoded storage location. When it comes time for the product to be released, we know the precise location of every pallet and staging is a breeze.
Contact us for quotes, questions, inquiries or to book a tour.
3188 - 188th Street Surrey, BC V3Z 9V5